Upcoming 2024
The Brockton Writers Series. Wednesday, May 8, 2024. Glad Day Bookshop, 499 Church Street, Toronto, ON. 6:30 p.m.
Junction Reads. Sunday, June 23, 2024. TYPE Books, Junction, 2887 Dundas Street West, Toronto, ON. Time TBD.
The St. Jerome's University Reading Series. Late Sept., 2024. University of Waterloo. Waterloo, ON. Time TBD.
Past
2022
Type Books Poetry Reading. Monday, October 17, 2022. Type Books. 2887 Dundas Street West, Toronto, ON. 6:30 p.m. (w/ Zoe Imani Sharpe, MLA Chernoff, and Bardia Sinaee)
2019
Frostbite: A Literary Icebreaker of an Evening. Monday, January 21, 2019. The Gladstone Hotel. 1214 Queen Street West, Toronto, ON. 7 p.m. (w/ Erin Moure, Michael Turner, Adebe DeRango-Adem, Phoebe Wang, Djamila Ibrahim, Catriona Wright, Dominique Bernier-Cormier, Victoria Hetherington, Chris Bailey, and Paul Carlucci)
2018
The Launch of Clicking into Place by Jordan Moffatt. Friday, November 2, 2018. Tranzac Club. 292 Brunswick Avenue, Toronto, ON. 7 p.m. (w/ Jordan Moffatt, JC Bouchard, Terese Pierre, Khashayar Mohammadi, and Stephen Thomas; hosted by Fawn Parker and Thomas Molander)
The Launch of Everyone Rides the Bus in a City of Losers by Jason Freure. Thursday, October 11, 2018. Farside. 600 Gerrard Street East, Toronto, ON. 7 p.m. (w/ Jason Freure and Catriona Wright)
The Tree Reading Series. Tuesday, May 8, 2018. Bar Robo. 692 Somerset West, Ottawa, ON. 8 p.m. (w/ Catriona Wright)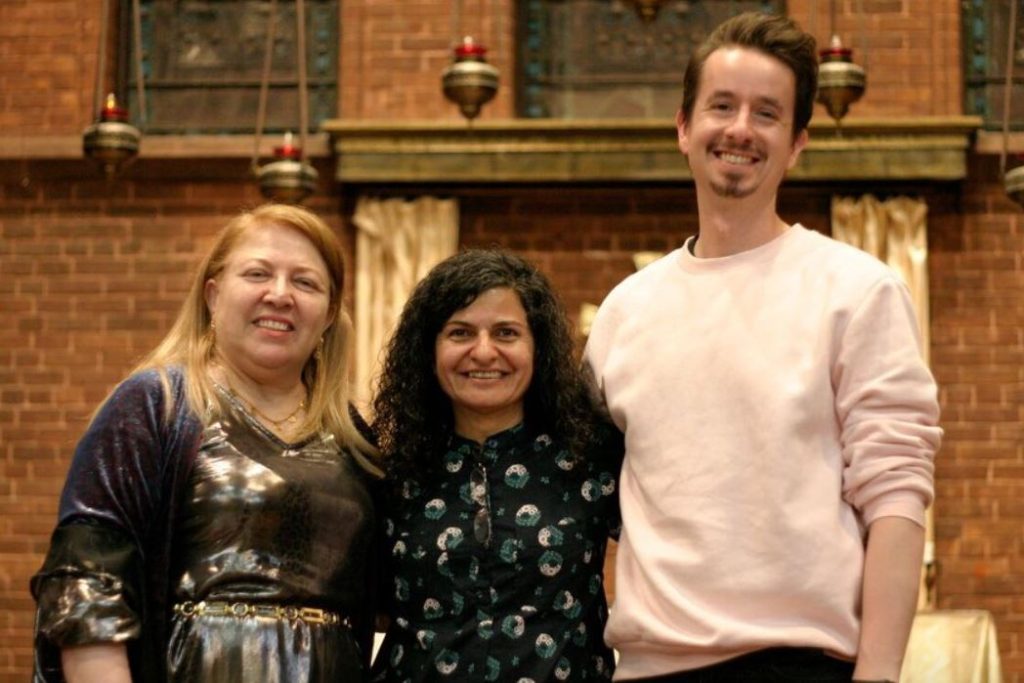 Sawdust Reading Series. Wednesday, January 17, 2018. Bar Robo. 692 Somerset West, Ottawa, ON. 7 p.m. (w/ Dorian Bell; hosted by Jennifer Pederson)
Publishing and Promoting Your First Book: A Seminar for the University of Toronto's MA in Creative Writing Program. Wednesday, January 24, 2018. The English Department of the U of T. (Jackman Humanities Building), 5:00 p.m. - 6:00 p.m. (w/ Rebecca Rosenblum and Robert McGill)
The Speakeasy Reading Series. Thursday, January 25, 2018. Tequlia Bookworm, 512 Queen Street West, Toronto, ON. 7:30 p.m. (w/ Greg Rhyno, Catherine Bush, Rose Cullis, and Rebecca Kelly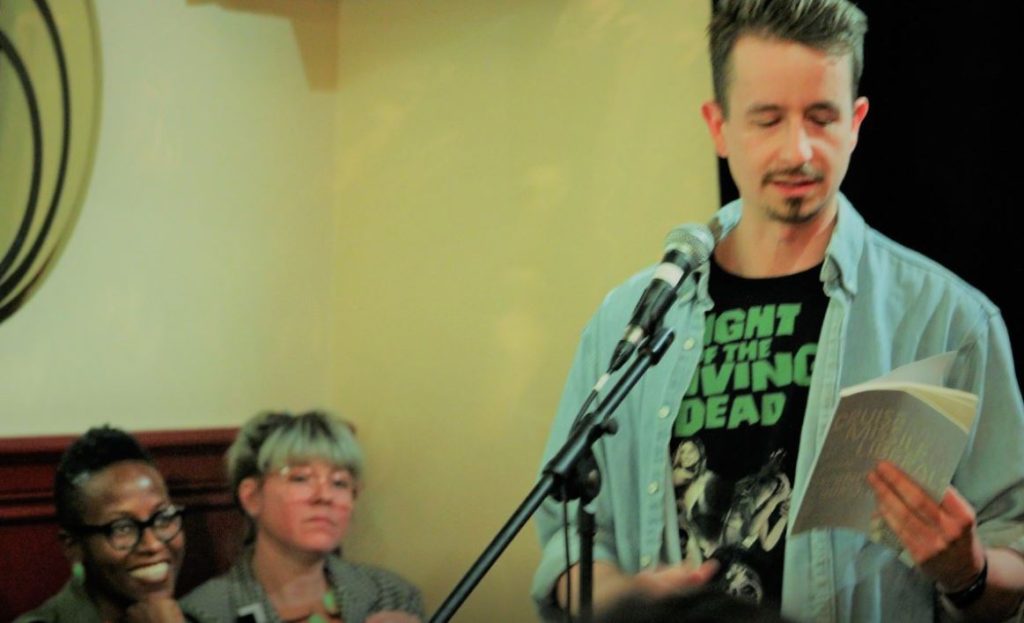 The Resonance Reading Series. Tuesday, February 6, 2018. Resonance Cafe. 5175A Park Avenue, Montreal, QC. 8:30 p.m. - 11:30 p.m. (w/ Aisha Sasha John, Ayesha Chatterjee, Jake Byrne, and Nyla Matuk; hosted by Klara du Plessis)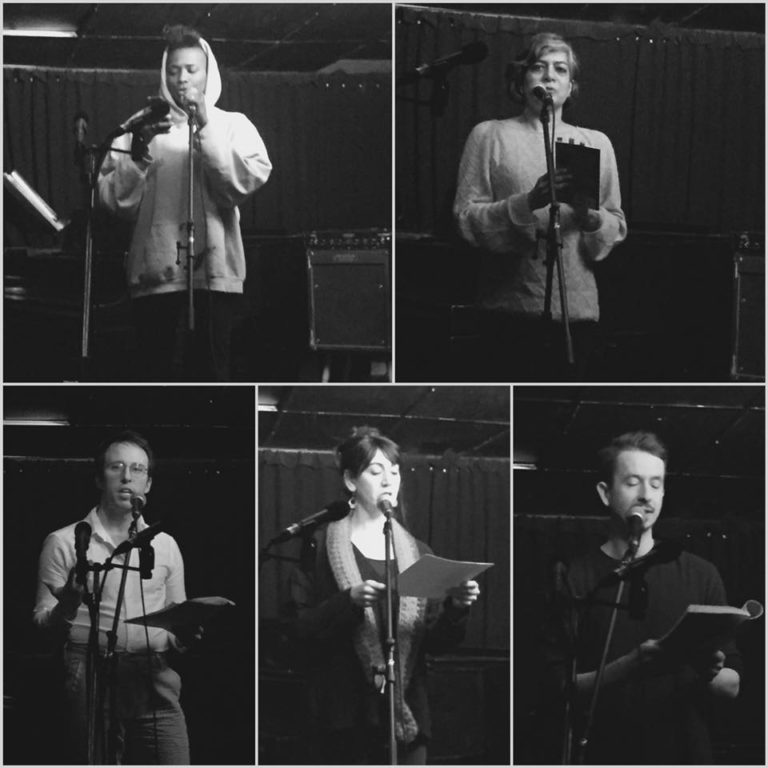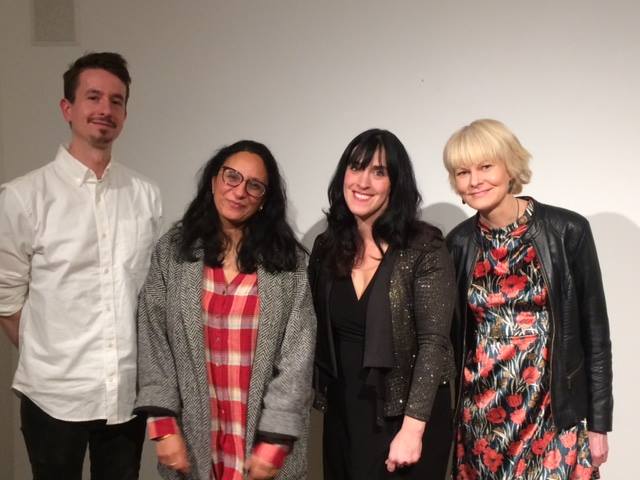 2017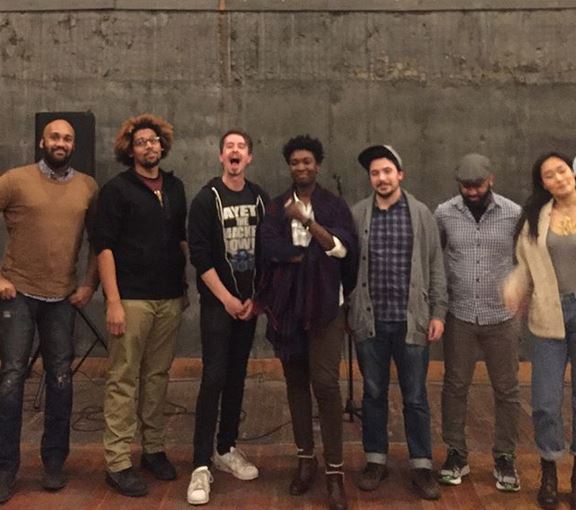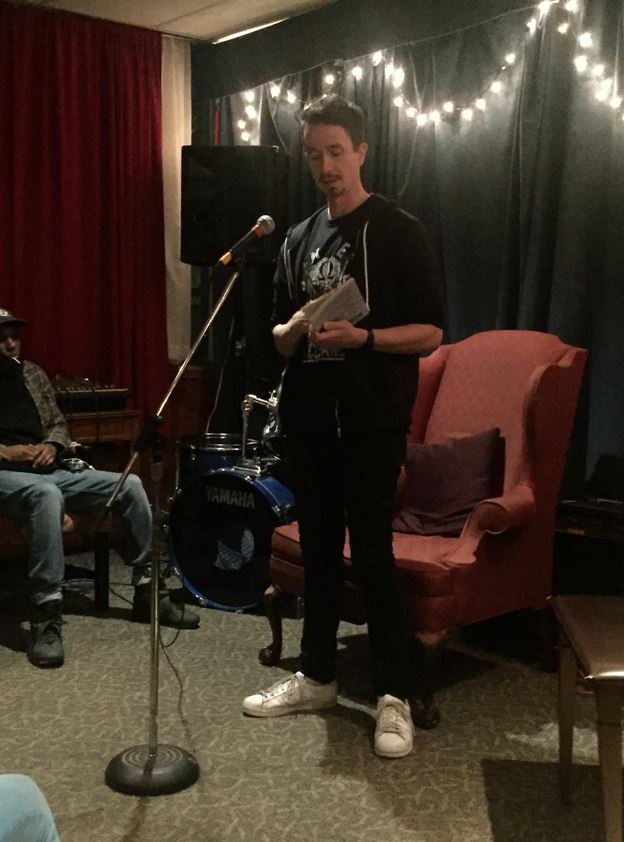 Amazing New Stuff! Saturday, October 28, 2017. Solita, 1375 Dundas Street West, Toronto, ON. 7:30 p.m. (w/ Marianne Apostolides and Ben Doerkson)
We All Begin in a Little Magazine: An IFOA Celebration of 10 Years of The Puritan. Thursday, October 26, 2017. Harbourfront Centre, 235 Queen's Quay West, Toronto, ON. 8:30 p.m. (w/ Andre Babyn, Andre Forget, Jason Freure, Rudrapriya Rathore, Tyler Willis, and Catriona Wright)
Nightwood Editions Showcase at Knife|Fork|Book. Friday, October 20, 2017. NEW TIME AND LOCATION: The Dark Side Studio, 244 Augusta Avenue, Toronto, ON. 7 p.m.  (w/ David Alexander and Owain Nicholson)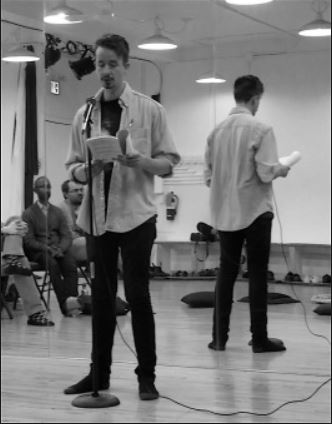 Say It! Cobourg Poetry Commons. Wednesday, October 18, 2017. The Human Bean, 80 King St. W., Cobourg, ON. Doors at 7:00; Readings Start at 7:30 p.m. (w/ Jessica Heimstra)
the art bar poetry series. Tuesday, October 10, 2017. NEW TIME AND LOCATION: Cloak and Dagger Irish Pub. 394 College Street, Toronto, ON. 7 p.m. (w/ Anne Campbell and Benjamin Hertwig)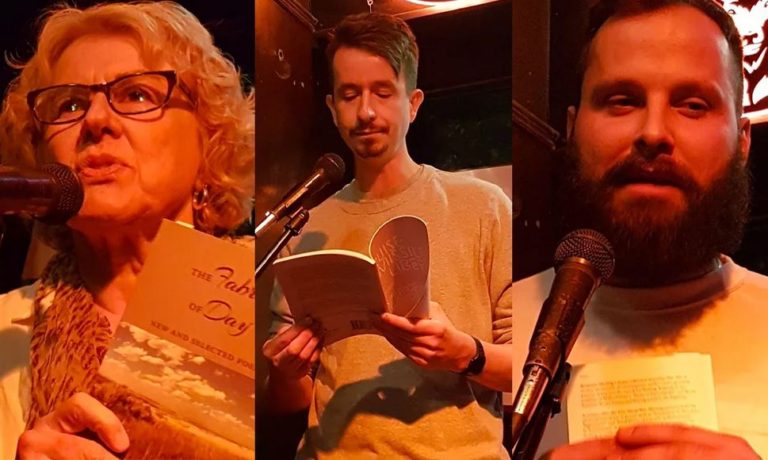 LitLive Literary Readings. Sunday, October 1, 2017. The Staircase Theatre. 27 Dundurn Street N., Hamilton, ON. 7:30 p.m. (w/ Alban Goulden, Suzanna Derewicz, Jamie Tennant, Christopher Levenson, and Joanne Arnott)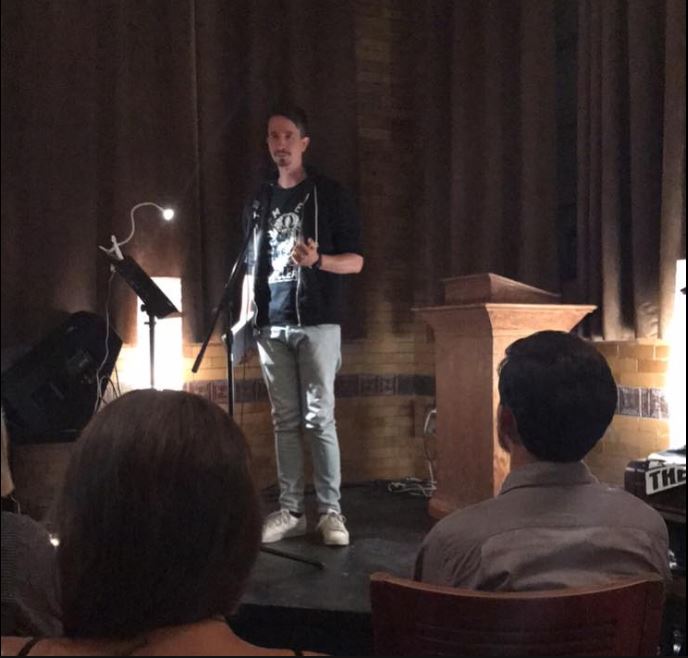 2016
Desert Pets Press/The Emergency Response Unit Chapbook Launch, Toronto, ON
Nightwood/Anvil Press Book Launch at Type Books, Toronto, ON
2015
The Launch of 300 Hours a Minute (Desert Pets Press), Toronto, ON
Tonight on Our Stage at the NAC Fourth Stage, Ottawa, ON
2014
Lit Live Reading Series, Hamilton, ON
"All Lit Up" Toronto Launch Party for the Literary Press Group, Toronto, ON
words(on)stages Reading Series, Toronto, ON
Blue Coffee Reading Series, Toronto, ON
Poetry Remix: Tears for Fears, Toronto, ON
Classroom Visit: ENG215H1S: The Canadian Short Story, University of Toronto
Classroom Visit: Journalism Program, Sheridan College
Classroom Visit: COMM 301: Professional Writing Skills, Humber, Toronto, ON
The Launch of Issue 138.1 of Acta Victoriana, Toronto, ON
2013
The Apt. 9 Launch of Conservative Majority, Ottawa, ON
Classroom Visit: English, Marianapolis College (Private CEGEP), Montreal, QC
The Ruckus Reading Series, Toronto, ON
Amazing New Stuff Reading Series, Toronto, ON
Toronto Luminato Festival, "A Literary Picnic," Toronto, ON
The Launch of All We Want Is Everything by Andrew Sullivan, Toronto, ON
The Launch of Everything Is Fine, Toronto, ON
Classroom Visit: Creative Book Publishing Program, Humber, Toronto, ON
"The Boys Are Back in Burlingtown" with Andrew Faulkner, Burlington, ON
Classroom Visit: ENGC87: Creative Writing Fiction II, UTSC, Toronto, ON
Classroom Visit: ENGB61: Creative Writing Fiction I, UTSC, Toronto, ON
The Grey Borders Reading Series, St. Catharines, ON
This Is Happening Whether You Like It or Not Reading Series, Montreal, QC
2012
Write Club Toronto, Toronto, ON
The Pivot Reading Series, Toronto, ON
The Winnipeg Launch of Cosmo at McNally Jackson, Winnipeg, MB
Classroom Visit: The Short Story, University of Winnipeg, Winnipeg, MB
Morning Television Interview: CTV Canada AM, Winnipeg, MB
The Dusty Owl Reading Series, Ottawa, ON
"Indie Lit Night" w/ Coach House Books, ECW, and House of Anansi, Waterloo, ON
F*cked Up Presents: The Long Winter: Imposters, Toronto, ON
The Coach House Fall 2012 Launch, Montreal, QC
Ottawa International Writers Festival Fiction Event, Ottawa, ON
The Toronto Launch of Cosmo with Barry Webster, Toronto, ON
Real Vancouver Writers' Literary Bash at W2, Vancouver, BC
 The Coach House Fall 2012 Launch, Toronto, ON
The Boneshaker Reading Series, Toronto, ON
The EW Reading Series, Toronto, ON
2011
"Savage: Cult of Personality, Pure Media + the Art of Macho Madness," Toronto, ON
The Pivot Reading Series and Launch of Rebuild by Sachiko Murakami, Toronto, ON
The Technicolour Music and Reading Series, Toronto, ON
2010
Co-Hosted the Border Patrol Reading Series, Toronto, ON
The Strong Words 5th Anniversary Reading Series, Toronto, ON
The Launch of echolocation 9, Toronto, ON
2009
The Ottawa Small Press Book Fair Pre-Reading, Ottawa, ON
The John Newlove Awards Ceremony at the Ottawa Writers Festival, Ottawa, ON
The Pivot Reading Series' One Year Anniversary Reading, Toronto, ON
The Broken Pencil Fantasy Party, Toronto, ON