Yes, that's right. This is a "website" for Spencer Gordon's books.
Spencer's newest book, A Horse at the Window, a collection of prose poetry/fiction, is coming from House of Anansi Press (June 2024). He is also author of Cruise Missile Liberals (Nightwood Editions, 2017), a book of poetry, and Cosmo (Coach House Books, 2012), a collection of short stories.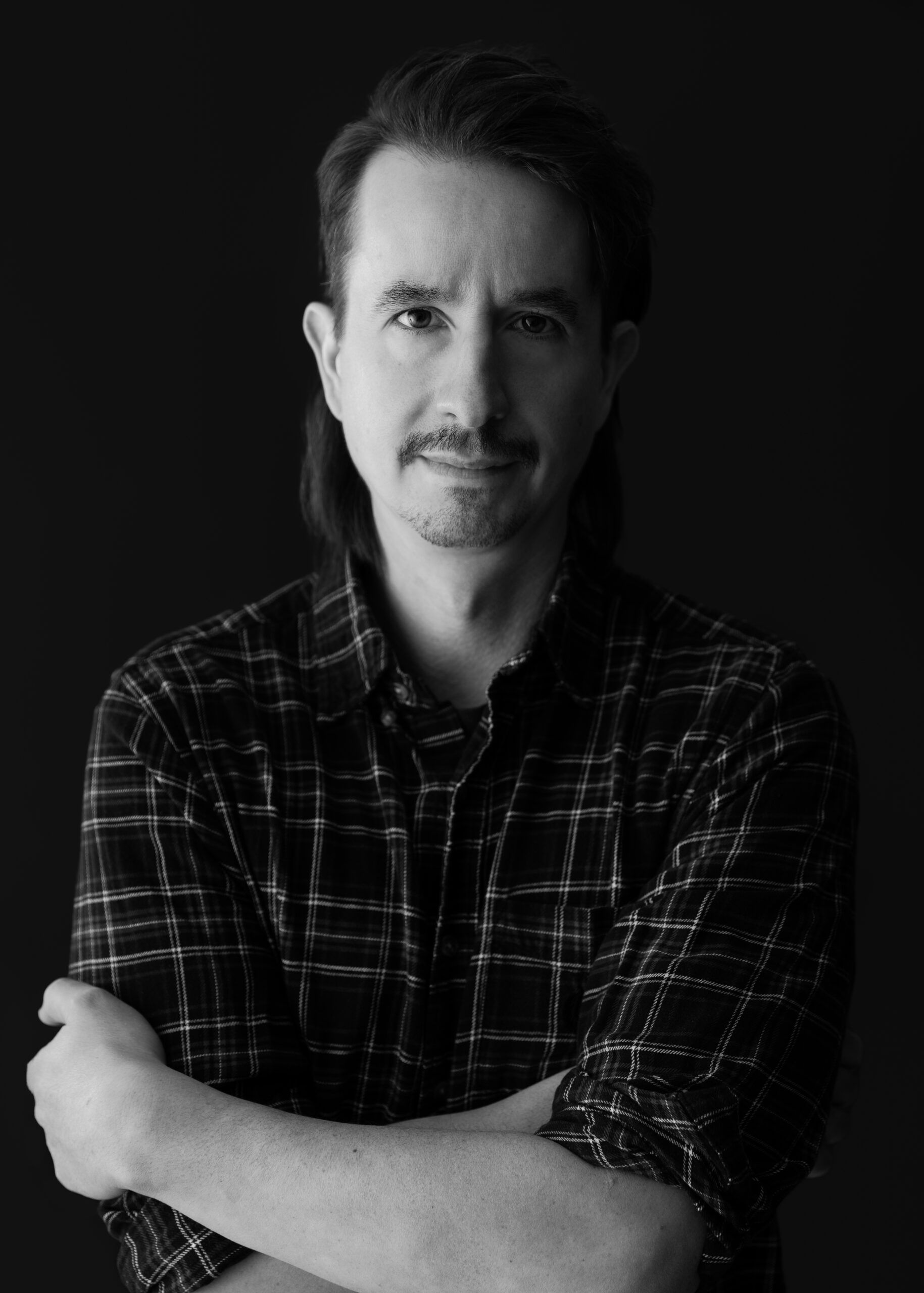 His other writing has "appeared" in places like the Toronto Star, The Globe and Mail, the National Post, CNQ, This Magazine, etc. He invented and ran the literary magazine The Puritan (now Ex-Puritan) for ten years and once taught writing across Toronto in places like Humber College, OCAD U, George Brown College, and the U of T.
On A Horse at the Window
Its poetics fanned by tutelary spirits, A Horse at the Window spans the burning issues of a world torn between the tangible and the digital. Okay, so it might set your head on fire. But that's just as well.
On Cruise Missile Liberals
Spencer Gordon's Cruise Missile Liberals is, as its title suggests, a very funny, often despairing book. Jammed with on-point pop and breathtaking turns of phrase, this collection of poems is genuinely compelling: it is hard to stop reading, so sweetly twisted is Gordon's world.
—Lynn Crosbie, Author of Where Did You Sleep Last Night, Life Is About Losing Everything, and Liar
There is a generosity of spirit on offer here for we who are tired, placeless, saturated in social media, and wasted on the bright horror of a future that never arrives. This collection is deft, intelligent, and tender, if tenderness is something that can also crush you—an intimacy that panics shut. For we who are "Nature Woke," "alchemical kids with gold teeth," "wanting to live as I do, shockingly new," Gordon sings and memes against "Canada the Good" and presents us with an arresting portrait of our present moment.
—Liz Howard, Author of Infinite Citizen of the Shaking Tent (Winner of the 2016 Griffin Poetry Prize)
Cruise Missile Liberals could easily be called Late Capitalism. Spencer Gordon voices the anger and dejection that many of us feel as we survey the detritus of our political and corporate ideologies and attempt to find an alternative to the cultural crack that has previously pacified us. But Gordon does not patronize us with false hope. "There is no system to replace the ruling system," he writes in "Ticker Tape." Elsewhere, he notifies us: "If you are crying, you are not winning. There is no good living." As a solution: "You should burn down your life." Like an excitable social media stream, these poems persist to the point of "sincere emotional fatigue" yet somehow Gordon manages to make an art of exhaustion, an art of the rant. Reading Gordon's poetry and fiction, one feels caught in a Mobius strip where life and entertainment loop infinitely into each other. We are sometimes ourselves and sometimes we are Taylor Swift, Avril Lavigne, and Peppa Pig. Or they are us, our teetering elected representatives.
—Ian Williams, Author of Personals (Shortlisted for the Griffin Poetry Prize), Not Anyone's Anything, and You Know Who You Are
Spencer Gordon's poetry debut, Cruise Missile Liberals, might be the oddball balm you need … Gordon's poems are completely submerged in the zany, disturbing thick of it … Gordon doesn't just question the place of poetry (here in an overtly political Canadian context), he interrogates the role of the poet as a citizen, directly implicating himself in the critique ... Create[s] a sense of vivid oversaturation by using listing or cataloguing as a main poetic tactic, tackling alcohol, boredom, failure, nostalgia, technology and music as shared common ground ... accomplishe[d] with an absurdist, jittery laugh.
—Domenica Martinello, The Globe and Mail
Politics and pop culture are bedfellows in Toronto poet and fiction writer Spencer Gordon's entertaining debut poetry collection. Gordon displays an acerbic wit and a knack for nifty turns of phrase as he takes satirical aim at the absurdities of life in consumer society and our obsession with celebrity … He can be cheekily funny … Cruise Missile Liberals offers plenty of laughs, but it's also got heart.
—Barbara Carey, Toronto Star
Cruise Missile Liberals is a complex and accomplished first collection from a writer who has honed his voice by listening. Gordon's examination of the self in late capitalism is not always optimistic but is, in its humanity, enormously affirming.
—Stevie Howell, Quill and Quire, Starred Review
The poems in Spencer Gordon's Cruise Missile Liberals survey political, corporate and pop-culture landscapes (so often now one and the same) and comment sadly on their devastation, while never forgetting how great Taylor Swift used to be … [A book of] disturbing, wry intelligence … [and] taut, careful craft.
—Jonathan Ball, Winnipeg Free Press
Here, nothing is insular … Cruise Missile Liberals interacts with the local, the national, and the global with the clout of popular culture and late capitalism. The poetry community is placed in conversation with the Trudeau government, with Instagram, with Facebook, with Hillary, and with Donald … [It] delivers a complex picture of the present. It is a collection brimming with tongue-in-cheek lyrical excessiveness. And nothing short of unapologetic for an author's poetry debut in Canadian literature.
—Philippe Pamela Dungao, Broken Pencil Magazine
Spencer Gordon remarks on "the way flat and tepid coke can slake thirst." That line, with its wild variation of vowels banging against the steady alliteration of ts and ks, is indicative of how good his ear can be in Cruise Missile Liberals. But it might be even more indicative of the book's aesthetics of low expectations. As you might guess from the title, there's anger in the book, but as the title perhaps also suggests, that anger is not going to get in the way of harmless fun.
—Tim Conley, Canadian Literature: A Quarterly of Criticism and Review
When Gordon takes his foot off of the brakes he speeds into some beautifully hellish chaos; when it breaks his previously calm surface ripples over all of us. These poems are a new type of missile … This is heart-wrenching and powerful stuff. Cruise Missile Liberals is full of marvellous stuff.
—Michael Dennis, Today's Book of Poetry
This debut collection includes poems that play, rant, combine anxiety with ambitious experiment, and incorporate invented lyrical content with found material, to very funny and often despairing effect.
—Prairie books Now
[Spencer Gordon's] debut collection of poetry is highly experimental, highly witty and is dripping with charisma.
—CBC Books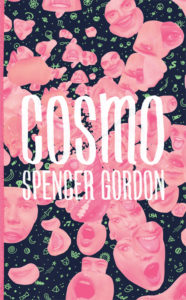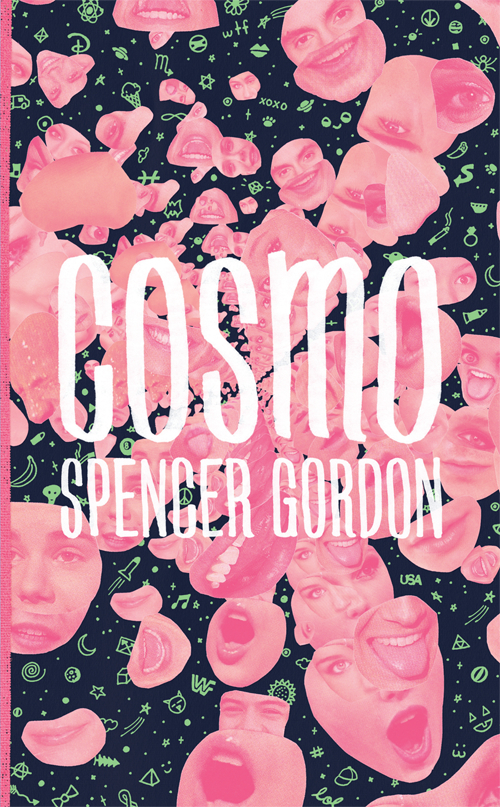 On Cosmo
Try any first page here, and, if you are not mouth agape with voyeuristic thrill, then this writer is not Spencer Gordon, one of the most daring writers I've ever come across. These stories read like collaborations between Stephen King and TMZ with Borges and Nabokov on the edits. Each short story sounds with the thunder of a novel. Enthralling, dark, gut-busting stuff!
– Jeff Parker, author of Where Bears Roam the Streets: A Russian Journal and Ovenman
Sprung from Spencer Gordon's media-saturated world and fuelled by his immense talent, Cosmo is a giddy ride of cultural riffs and intoxicating language. And in the midst of this sensual swirl of words, the reader encounters a van-load of profound and mournful truths.
– Trevor Cole, author of Practical Jean and The Fearsome Particles
Demonstrates a refreshing willingness to test the plasticity of language and structure … The 10 stories in Cosmo are an investigation into the nature of authenticity in an age that seems ever more mediated and synthetic. How is it possible to live a meaningful life in the world that lionizes surfaces and shallowness? Gordon provides no comfortable, simplistic answers, but his approach to asking the questions is startling and invigorating.
– Steven W. Beattie, Quill and Quire, Starred Review
Not only a collection of fiction but also a work of cultural criticism … It succeeds not only as a well-wrought and keenly written collection of narratives, but also as a work of analysis … Cosmo is a rare book in that it is brave enough to explore the ways in which being loved in private has a very real counterpoint in public, in the form of fame, public identity and cultural cache. In doing so, Gordon dissects the very idea of the authentic in an increasingly public world in which the self is ever more constructed.
– Natalie Zina Walschots, National Post
Stylistically, Gordon plays both with the detached language of the professional bio and the dry data presentation of an internet wiki. But he is also playing with our assumptions about what culture counts as Culture and why. By treating the lives of now moribund teen celebrities—surely one of the most derided and pathetic by-products of pop culture's tireless grind—with a sense of dignity, he invites a reckoning with the vacuity of most human accomplishment and with mortality itself. Gordon ends the sequence by breaking the pattern and giving us a bio of Helen Keller, which feels both ridiculous and absolutely perfect; when we get to the emotionally devastating last paragraph, it feels inevitable and totally surprising. It's a clever and provocative piece of writing, and I find myself returning to it over and over again to remind myself of how it works and why … Thinking about it now, it makes me excited to see what this generation will accomplish when it hits its stride.
– André Forget, The Walrus
The cheek and irony serve as mechanisms for a throat-punchingly intimate portrayal of doubt and self-loss … Cosmo presents its stakes loudly and clearly, tinged as much in neon as in sepia—or maybe a heartbreakingly tacky sepia-toned filter. These are arresting stories, and as voyeurs and disciples and melancholics, we are all made implicit in this grotesquification.
– Rob Benvie, HTMLGIANT
Disarming, technically accomplished … deserves a wide readership … Gordon finds what matters in his exploration of one of the widest varieties of psyches you are likely to come across in short fiction.
– Victor Enns, Winnipeg Free Press
In his first collection of fiction, Cosmo, Spencer Gordon shows us his Mariah Carey-esque range. With expert wordsmithery, Gordon moves from affecting familial realism to absurd vision quests in celebrity to experimental palate cleansers … Brave, poignant, and hilarious.
– Caitlynn Cummings, This Magazine
His stories are fun, intoxicating, and the language is drunk on a high-energy style more lively than a dancefloor … His work is other-worldly, and his imagination rocket-launches CanLit to brave new heights, soaring past the black hole of sameness and familiarity of story that most of CanLit gets sucked into … You haven't read a voice like this before, and you won't forget it either.
– Chad Pelley, Telegraph-Journal (Saint John)
Cosmo is impossible to tear away from without gushing embarrassing mawkishness … Gordon has the rare ability, startling when revealed, when flexed, to make one laugh (this is a wildly funny book), then, and within such tight proximity, perhaps even feel a choke.
– Karl Fenske, Lemon Hound
Both heartwarming and heartbreaking … an intriguing and insightful cultural artifact.
– Keith Cadieux, The Winnipeg Review
Spencer Gordon goes places I didn't know a writer outside of TMZ could go.
– Alessandra Ferreri, Book Stylist
Not your average collection of short stories … A dark collection, filled with murder and fear … [with] a faint undercurrent of hope … A fast and interesting read that may leave you breathless.
– Merry Hakin, Scene (London)
I salute it. It is difficult and a riddle; it is art … Bravo.
– Michael Bryson, Underground Book Club
His prose has this wonderfully hallucinatory surreal quality. He isn't afraid of long sentences and lush exuberant poetic language. Even the comic sections have this underlying throbbing intensity that never lets up.
– Barry Webster, CBC Canada Writes
Spencer's highly-lauded collection of short stories, Cosmo, is like reading Brief Interviews with Hideous Men scrawled into the margins of People magazine. His technical ability is never in question while you read through the tales, and there's a palpable delight evident on the page as he cuts to the unlikely emotional hearts of situations and characters you may never have considered in the same way.
– Katie Fewster-Yan & Kris Bone, Ruckus Reading Series
Cosmo contains multitudes.
– Domenica Martinello, The Town Crier
Gordon has complete command over his weirdness and can make a reader feel right at home … I don't know how he does it, but I felt as deeply involved and related to those characters as I do in any kitchen-sink realism—and this was a lot funnier too.
– Rebecca Rosenblum, CBC Canada Writes​
Some fiction writers eschew the present-day in hopes of attaining some kind of timeless reverence, as if others write about YouTube and Matthew McConaughey. For fans of the latter, Gordon's short story collection Cosmo has earned the writer comparisons with David Foster Wallace and Bret Easton Ellis for his emphasis on form, sentences, and waxing philosophic on pop culture phenomena.
– Lauren Oyler, Dazed Magazine
Spencer Gordon's Cosmo is an incredible read, filled with pop cultural ephemera mercilessly skewered on every sentence. Line after line, his collection remains hilarious and slightly menacing.
– Andrew F. Sullivan, Little Fiction Q&A
Spencer Gordon's book is playful and fun, but still gazes deeply into the lonely centre within us.
– Jess Taylor, 49th Shelf